Stewardship and Giving
Give Central

A Special Opportunity with the Annual Catholic Appeal
For the Annual Catholic Appeal our goal is typically arouind $24,000. Any amount collected over the set goal goes back to our parish.
When you donate to the Annual Catholic Appeal, please be sure to note that you are a member of St. Catherine and St. Lucy; this will link your donation to our parish.
Annual Catholic Appeal: www.annualcatholicappeal.com/donate.aspx
Sunday Offering Envelopes
To receive Sunday offering envelopes, please contact the Church Office (708-386-8077, scsloffice@comcast.net). Your Sunday offerings go toward our parish's operating expenses. Your recorded donations to the parish are tax-deductible. Therefore, we encourage the use of checks and offering envelopes.
Facilities Projects and Fundraising Events
The hard work of parish development, stewardship and fundraising is headed by our Parish Development and Services Commission. You can learn more about how parish donations are effectively used for ministry and support by clicking here.
Additionally, we have various fund-raising activities throughout the year. You can learn more about these fun ways to support our parish by clicking here.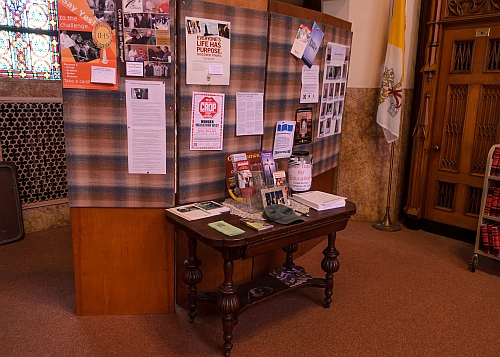 We have several recently-completed and ongoing parish facilities projects.
McGuire Hall had a new roof installed in 2011, kitchen renovated in 2014 and drive way to side entrance of churhce replaced in 2013, with significant help from the Archdiocese of Chicago.
With funding from the "To Teach Who Christ Is" capital campaign, we installed a new air conditiong unit in 2017 and have done stained glass and roof repairs.
Thanks to the generous funding through the Maeve Bacom Detmer Accessibility Fund, we recently completed a handicapped-accessible ramp to the church building.
The front doors of the church building were refinished, and additional doors have been replaced throughout the church campus.
The water damage to the altar area of the church building was repaired and the walls restored.
The buildings on the campus include the Church building, Rectory/Parish Office, McGuire Hall, Lucienne House, and the School. We are continually assessing building and infrastructure needs.